First of all, this is not my ear.  If you have been a long-time reader here, you know that.  Because along with my Dad's "big bones" I inherited his gigantic earlobes.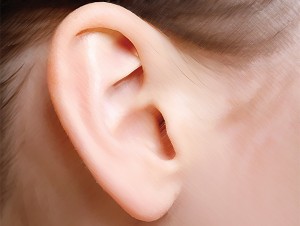 Ironically, the last time I mentioned my ears was for the post I did about a pimple.  That post was just going to be about my pimple, but when I uploaded the picture and saw my earlobe, I felt I should acknowledge that I am aware that I look like an 80 year old…man.
So if you've been around here for more than a couple of years, you would know that isn't my ear.  If you were me, however, you would know that isn't my ear because there isn't a mass growing out of it.
Right now, I have a pimple  here…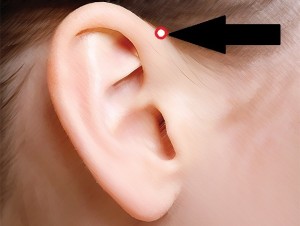 Only, it's not that small.  And, there's no white center.  And, it's eighteen layers underneath my skin.  And, I wear glasses.  And, it's HUGE.  And, it hurts.  You can't really even call it a pimple.  It's a growth.
My mom looked at it, my sister looked at it and I even made my 12 year old daughter look at it.  "Gah-ROSS, Mom!  Is that a tumor?" I wanted someone to stick a needle in my ear or Van Gogh the thing…you know, to make it feel better.  But, there is nowhere to shove a needle.  There is nothing to lance.  My ear is throbbing and everything is blurry because I can't wear my glasses.
It's a shame that the only part of my body that still looks like a teenager is my acne.