From the new, pediatrician-approved, lactose-tolerant, unicorn-inducing book Let's Panic About Babies!:
WHAT IF MY BABY ISN'T SMART, CUTE, STRONG, OR FUNNY?
Maybe she'll be really good at:
Inspiring people with her courage to persevere
Putting stamps on things
Pointing out rainbows
Hugs
Writing fake parenting books
Thank goodness my friends and fellow-bloggers, Alice and Eden fit into those categories!  Yes, all of them!  Oh, okay.  They are strong.  I have seen Eden deadlift a podium.

Alice and Eden took that strength (and courage to persevere) and wrote a book chock-full of advice for the expectant mother and new mother, alike.  There are even some fun facts thrown in for Daddy.  Like how to backpedal after you say, "How come I don't have any clean socks?"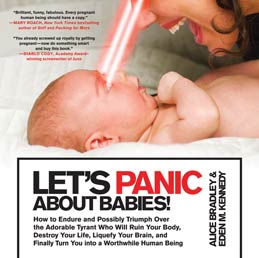 Their topics of discussion range from "Smells, sights, sounds and ideas that might induce nausea in the first trimester" (though, for the life of the Lebanese in me, I can't imagine why they put Danny Thomas on this list) (also, they fail to mention that these things will continue to make you sick for years to come and is why I can no longer listen to Dave Matthews CD's).
To, what to do "When your child acts out in the produce aisle".  Pretend she's not yours!
Here's the thing about parenthood; there are many opportunities to laugh (or else you'd cry).  This book helps you realize that the thoughts you have aren't yours alone.  All new mothers are lunatics.  Bonus?  You can blame the hormones.
And, guess what?  I'm not just going to tell you about the book.  I'm going to give a lucky reader a book too! No, not that book.  This book!
Just leave a comment on this post before March 11th at noon, EST to be entered.
Your baby will thank you. But, not until after the teen years.