I have been trying to be a better shopper lately when it comes to choosing food for my family.  I make a lot of purchases in the organic section and whenever I can, I choose items that are locally grown.
Being more food conscious made me especially excited when I was offered a chance to check out a new restaurant here in Columbus, called Sweet Clove Sunshine Cafe.
The press release promised an experience like none other, with fresh ingredients like Ohio Amish Cheese and real, Vermont Pure Maple Syrup, farm-fresh, real, cracked eggs (not a mix or substitute).  AND, they don't fry their bacon.  They BAKE it.
Their kitchen has "no can openers, microwaves, fryers, trans fats, or MSG"…not even for the French fries.  Everything is oven baked.
But, while all of those things made me want to eat there, what really caught my interest was that the restaurant is located inside the Honeybaked Ham store on Sawmill Road.  Yes, that's right.  Melt-in-your-mouth, Honeybaked Ham.  SOLD!
My family and I visited the restaurant on a Sunday afternoon and we were quickly greeted and seated, then brought warm, fresh-baked, crumb cake with maple butter.  By the time I got my camera out, my son had almost finished his.  Though, in his defense, I had to wipe the maple butter off of my fingers first.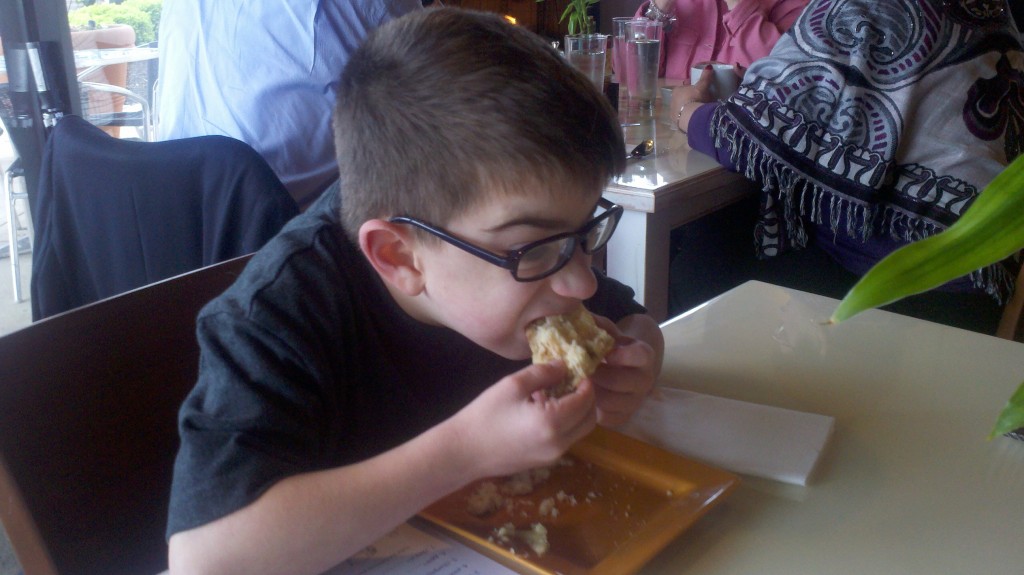 It was a cold, rainy day (also known as Ohio in the springtime), so I ordered the kids some hot chocolate.  It arrived at the perfect temperature, with thick, homemade whipped cream on top, then drizzled with chocolate syrup.  It was delicious and, admittedly, the kids had to fight to keep me from emptying the content of their mugs into my belly.
We arrived around 1:00, so we settled on the lunch menu.  I ordered a Hawaiian Wrap (Honeybaked Ham, Amish Baby Swiss Cheese, Pineapple Slaw, baby greens and tomato).  Yum.
My daughter ordered an Ultimate Club and the waitress looked at her like she had three heads (in a totally nice way), then she took pity on my daughter's stomach and suggested, "Maybe you should just get half of one."
My husband also ordered the Ultimate Club and my son ordered a very reasonably priced kid's meal that consisted of a Honeybaked Ham and Cheese sandwich and waffle fries.
When our food arrived (and this was the only part of the visit that was remotely unpleasant…it took a long time to get our food) I understood why the waitress had given my daughter that look.
This was my wrap.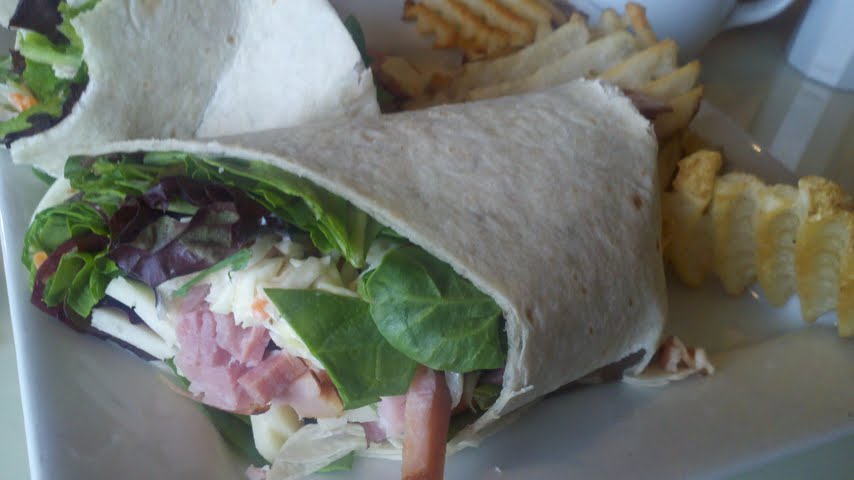 This picture is lacking perspective, so let me just tell you that half of this wrap was as big as my face and the half Club that my daughter ordered was at least as much food as a full portion at most restaurants.  Between the four of us, we left with two full containers of leftovers.  (I enjoyed the other half of my wrap the next day and it was still just as tasty.)
It wouldn't be fair of me to talk about delicious food and show you pictures of delicious food without offering you a chance to have some delicious food of your own, now would it?
So, here's your chance!
I will be giving away a $25.00 gift card to one Central-Ohio reader for Sweet Clove Sunshine Cafe along with a coupon to buy one entree, get one free.  Just leave a comment on this post (with a valid email address) and you will be entered to win.  A winner will be chosen on May 26th, at 5:00pm EST.
And, just so everyone has a chance to experience Sweet Clove Sunshine Cafe, I am passing along this coupon.  Hurry!  It expires soon!  Enjoy!