Editor's Note: This is a sponsored post. I was paid by BlogHer to write this post and conduct discussions on Chime.in
Update 11/28 *The winner has been chosen and notified. Thanks for entering, everyone!*
Before I started blogging in 2007, I started writing a novel. I have had the story in my head for so long that the characters feel like extensions of my family. Well, except for that one really bad guy.
The manuscript that I started, forever ago, sat untouched until I recently picked it back up. I got inspired. I got motivated. I started working on it again.
I am the Social Media Manager for the largest community of women who blog, with 34 million visitors to our network each month. I host their Twitter stream that has over 36,000 followers and I do my own social media marketing on Twitter, Facebook, Pinterest, Google+, Stumbleupon and Linkedin.
The last thing I needed was another social network.
But, I was asked to try Chime.in and did. And, it's pretty great.
Chime.in is not just a social network, it's an "interest network". As part of Ubermedia.com, Chime.in is a place where you can find a community of people with the same likes as you. Whether you're into cars or fashion, home decorating or fitness, there is a network of people with whom to share your tips, tricks and passion.
And, Chime.in is where I found the Blog to Book community.
I'm not the only blogger trying to write a book. There are a lot of us in this boat and when the sea gets stormy and it gets hard to row, I have people who know exactly how I feel when I say that I stink at metaphors. They get it when I'm frustrated that I didn't meet my word count goal or they understand what it's like to outline chapters when kids are running around the room
Tips, tricks, passion…frustration. We share it all.
Within our community we can talk, add photos and even create polls to ask for opinions. It's exactly what I needed to get started again.
And, guess what? You can get started reading and watching because Chime.in and BlogHer are letting me give away a Kindle Fire!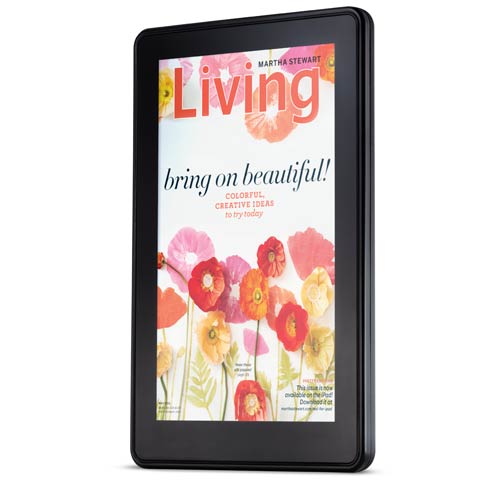 Comment here or join the discussion in the blog to book community on Chime.in to enter. Official rules are here. My part of the contest ends on Monday, November 21 at midnight ET. Comments or discussions on Chime.in timestamped after midnight ET on November 21 won't be eligible for my part of the contest.
Tuesday, November 1 – Monday November 7 — win here — GIVEAWAY CLOSED
Tuesday, November 8 – Monday November 14 — win here — GIVEAWAY CLOSED
Tuesday, November 15 – Monday November 21 — win with Momo Fali or Matt Logelin — GIVEAWAY CLOSED
Tuesday, November 22 – Monday November 28 — win with Sassymonkey