One of my favorite things about Christmas morning is opening the gifts that my kids, painstakingly, pick out at their school's Santa Gift Land. I remember shopping for my own parents when I was a child, usually deciding on anything with a candy-cane stripe; pens, candles, shoestrings…you get the picture.
Though my daughter is about to turn 13 and is, therefore, too mature to shop at Santa Gift Land *place hand on hip* *insert eyeroll*, she does win a blue ribbon for the best item ever purchased off of a folding table in the art room. When she was in one of the lower grades and attended Santa Gift Land, she bought my husband a wolf-clock.
I'm not sure where we have it stored, but it looked sort of like this: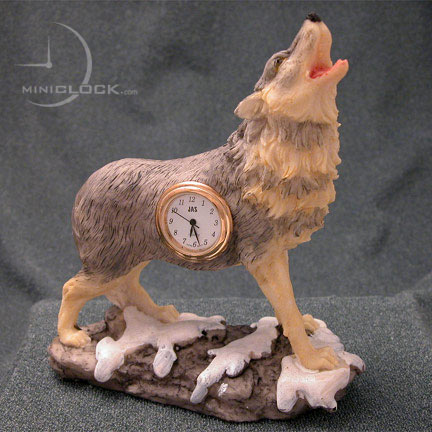 A fine clock specimen if you love a good mini-wolf. Plus, nothing says, "What time is it?" like an animal's ribcage.
I don't know why there aren't many good choices for dads at Santa Gift Land, but this was about as good as it got. Until this year.
Last week, after shopping at school, my son came home with a coffee mug for his dad. Perfect! My husband likes coffee, he needs to drink it out of a mug and there wasn't a wolf on it! I was actually pretty excited for him to open this gift on Christmas morning. It would be such a pleasant surprise!
The other night, my two fellas were sitting together on the couch when my nine year old suddenly asked, "Hey, Dad. What do you want for Christmas?"
My husband said, "Oh, I don't know. I need some socks and a new pillow."
My son nodded. "Do you want anything else?"
"Well, you know I love the Dallas Cowboys. I'd like a new Cowboys shirt."
Then my son looked up at his dad and said, "Oh, those are good ideas. But, how do you feel about coffee mugs?"