I received an email yesterday that contained lyrics from a Salt-n-Pepa song. No one pointed them out to me and for all I know it was unintentional, but I knew they were Salt-n-Pepa lyrics because I used to look like this.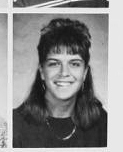 That's me, circa 1986, the year Salt-n-Pepa released their first album. I was 15 years old, which was prime hip-hopping age. Of course, I went to a practically all-white high-school, but technically you're still allowed to be white and hip-hop as long as you bite your lower lip.
Unfortunately, back in 1986 you couldn't dance because of the risk that your bangs would go flat. This meant spraying a half-a-bottle of Aqua Net directly on your curling iron, teasing your hair with great force, then applying more Aqua Net. Afterward, it was imperative that you not stand near an open flame.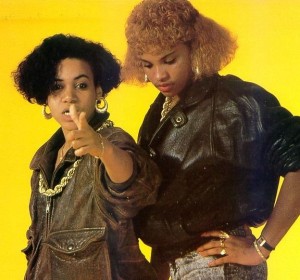 These ladies know what I'm talking about.
The overabundance in the 80's took a lot of work. You had to shred, bleach and peg your jeans, you had to destroy your hair, stack bracelets up your arm, and you had to make room in your closet for a bag of shoulder-pads. Sigh. The best shape my body was ever in was completely wasted on 80's fashion.
Thank goodness the neon, lace and crazy clothing shapes are gone for good! What? They're back? That's okay. My teen daughter will look good in big, baggy tunics.
I, however, won't be wearing those clothes again. And as for my poor, poor hair; I will never again tease my bangs unless it's for Halloween. The styles of the 80's are gone for good.
But, as shallow and corrupt as the music was, I can't seem to shake it. Or, Push It. Same difference.