Just over 14 years ago, we purchased a house that needed some TLC. Or, we can call it what it really was; a complete tear-down and rebuild. Same difference. We replaced water lines, plumbing, wiring, windows, walls, the roof (twice), put in a new patio, put up a fence and refinished floors. At the end of the process we had a brand new kitchen, three new bathrooms and a mountain of debt.
Then I had a 2 lb. 9 oz. baby and quit my job. Our timing? It's impeccable.
We didn't use top-of-the line products as we went through our renovation, so things are starting to fall apart around here. As time, dogs and children have torn things down, we've had to put them back up as best we can. Buying new is out of the question and if any work has to be done, it must be done by us.
Therein lies the problem. I don't have the time and my husband doesn't have the desire. May I remind you of his microwave repair?
I recently attempted the tear-out and replacement of the caulk in my shower. I thought I did a pretty good job, but a few weeks later, it started to peel away. Yesterday, I spent the afternoon tearing it out again.
And, I feel that in the interest of self-disclosure I should show you that my husband isn't the only one who takes short-cuts.
Because until I have the time to do this job right, it's duct tape and trash bags for us.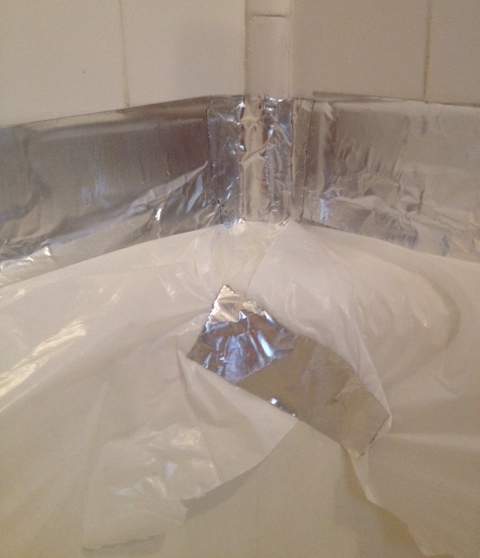 Who knows, it may catch on?