It's no secret that I like to have a cocktail now and then. My husband makes his own wine, I'm a big fan of blueberry vodka and I have never met a cold lager that I didn't like.
With the warm days of summer on the horizon I enjoy an icy-cold beverage even more; unfortunately this doesn't always agree with my girlish figure. And, when I say girlish, I mean large one.
Because of this, I usually stick to light beer, but I do like to change things up once in awhile. If you have been down the beer aisle at the grocery store lately, you know there are a lot of options from which to choose. It'll make your head spin before you've even had your first drink.
I am always up for trying something new, so I was excited when I was asked to sample Michelob ULTRA Light Cider. I was also a little leery. Cider, to me, meant autumn and bonfires, not to mention that the hard ciders I had tried in the past were too sweet or too heavy, neither of which appeals me on a hot, summer day.
Let's go over what does appeal to me, shall we?
I want something light, refreshing and sparkling with a mild flavor and all-natural ingredients. And, while I'm at it, I would like it to have 1/3 less calories than traditional cider. You know, since I'm making up this drink as I go.
Except, I'm not making it up because Michelob ULTRA already did.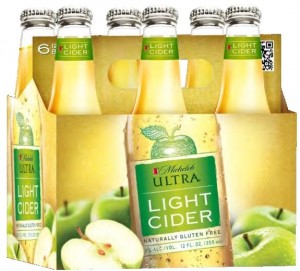 Isn't it pretty? The entire sponsor's site makes me thirsty just looking at it!
Michelob ULTRA Light Cider is not too sweet, not too heavy and is yummy alone or over ice. I tried it both ways, so I know that of which I speak. You're welcome. Last weekend, when the temperature hit the mid-90's, and the humidity sent my hair into a frenzy, it was the perfect thing to sip as I sat on a friend's patio for the afternoon.
In addition, this crisp, refreshing cider is made by Anheuser-Busch and because it is brewed following the same process as beer (the key difference being the use of apples instead of hops and barley) you know your beverage is in good hands. Oh, and naturally gluten-free!
Forget what you think about cider; Michelob ULTRA proves it's delicious year-round!
Which favorite summer meal or activity do you think would go best with Michelob ULTRA Light Cider? Visit the Michelob ULTRA Light Cider page on Blogher.com to see what other bloggers think!