When I was in the fourth grade I painted a picture of a young soldier. He wore a red coat, white pants and a black hat. Apparently, when you're nine years old and there hasn't been a war in your lifetime, you take style inspiration from the Revolutionary War.
The painting was good. Was I a child prodigy? No. Did my mom think I was? Yes. Every person who came over for bridge club for the next two months had to see the painting. She was proud. I understand this now because of my daughter's second grade gourd painting. Yes, gourd. I had it custom-framed and it hangs in our living room. Shut up.
Beyond the fourth grade, I lost my artistic mojo. Sure, there was the pencil sketch of a lion in the seventh grade and the envelopes I designed in order to get pre-sale concert tickets while in college, but it didn't go beyond that.
Until I discovered Draw Something.
This little iPhone game is making my artistic mojo creep back. I have done a good job of drawing kung fu, spaghetti and crutches. I've sketched Barney, gardens and an orchestra. The little soldier in the red coat must be buried in there somewhere, too!
As NOT evidenced by my son guessing this, which I drew: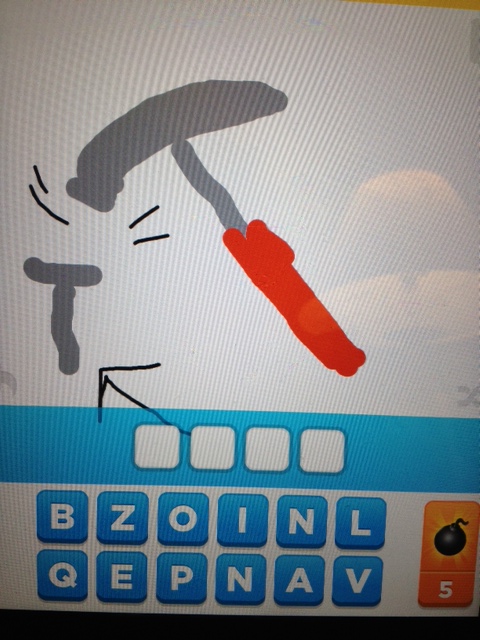 Him: Stares in disbelief. Looks at me, looks back at the phone. Says, "Mom, I have no idea what this is. I think the thing at the top of the picture is a gray banana, though." In fairness to him, gray bananas aren't an uncommon sighting in our fruit basket.
Me: "Let me give you a hint. The thing with the red handle is a tool."
Him: "Oh! It's a screwdriver stabbing a gray banana!"
I will not, in fact, be quitting my day job.