Nothing like failing a challenge when you're not even 1/3 of the way through it. I'm going to chalk my NaBloPoMo failure to the most disruptive week around here for a long time and then get back on my horse. I've taken the last couple of days to contact and visit with family, which are things I don't do often enough, so I figured the blogging could wait. My cousin's funeral is this afternoon. Thank you all for your kind thoughts.
I had the pleasure of attending a tour of the Ronald McDonald House of Central Ohio the other night. Through all of my son's hospitalizations and surgeries, my husband and I have always been close enough to home that one of us could sleep in our own bed. For those who can't, RMH Charities provides comfort and necessities. It is a truly amazing place and with a new expansion, the Central Ohio facility will be the biggest Ronald McDonald House in the world!
One of the things I found out is that the house depends heavily upon volunteers; cleaning, cooking, maintenance, stocking the supply shelves…you name it. There are rooms for 80 families each night and it costs RMH $100 per night, per family, to provide services. Though they ask for a $20 donation per night, the average amount received, per family, is $4.80.
They can use your money, your time or your talents, and I can assure you, it is a worthy cause. It's hard to have a sick kid and the kindness and special touches from Ronald McDonald House goes a long way to making a difficult situation bearable.
While we were there, they asked us to decorate handprints for their annual "Give a Hand" fundraiser to benefit RMCH and other charities for children. From now until November 20th, at participating McDonald's restaurants, you can purchase a paper hand for $1, $3, or $5 and the proceeds will go toward helping families in need.
This was the awesome design of the guy sitting next to me. It was this tie-dye looking, swirly, artsy thing. My phone didn't do it justice, but it was really cool.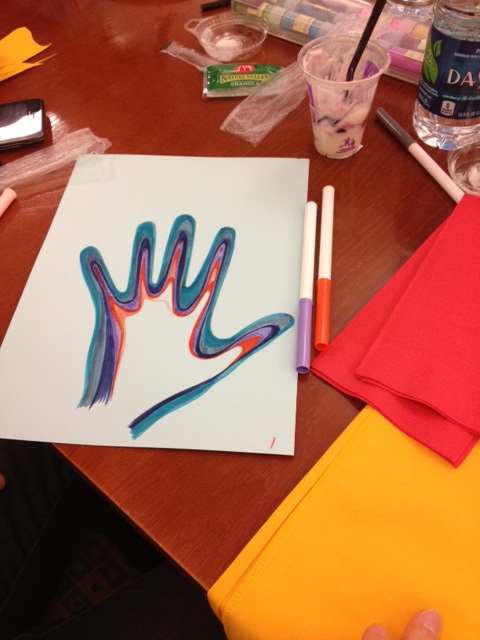 After I got black marker around the edge of my palm and my fingers when I traced my hand, I went with a more simple design. I am not so crafty.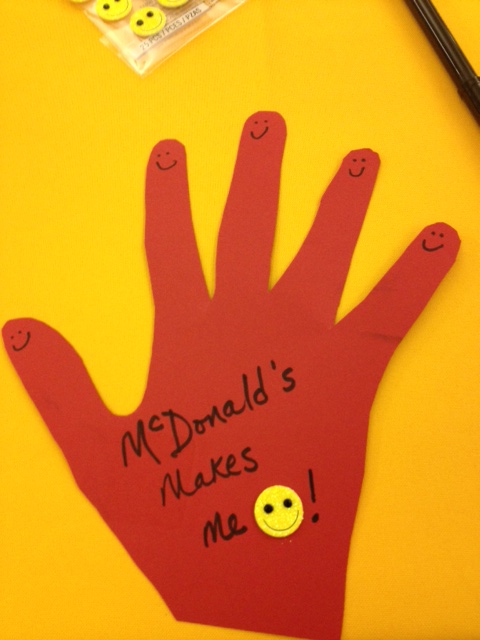 Either way, it was a great experience. To know that this massive endeavor is run with such heart and love, made me really happy.
See? My hand was right!