Here's what I could tell you; that it's sometimes exhausting to raise a special needs child. It's also the most rewarding thing I've ever done and if you mess with my son, I will go all Mama Bear Advocate on you until you stop. I will also say bad things about you on Facebook.
I could tell you that my cousin is very sick. That she was pretty much fine and then was suddenly diagnosed with THREE DIFFERENT types of cancer and is in critical care. Get your papsmears, ladies. Make a note and schedule it as soon as you possibly can.
I could mention that I can never, ever get the laundry done all in one day like my husband can and that he constantly rubs it in my face. Or, I could talk about how I don't understand why The Voice is on EVERY night.
Maybe I'll mention how hard it is to be vegan with Twix bars in the house, that I could buy a new pair of shoes just about every day or that I wish I were a piano virtuoso.
I could say that I think guilt is an incomparable emotional experience and if you don't have any, then you're not someone I want as a friend. If you don't feel guilty about something, then you don't care enough. Or, I could say that my dog is the best snuggler in the world. For real.
Or I could just show you a picture of my 78 year old mother beating my daughter at arm wrestling.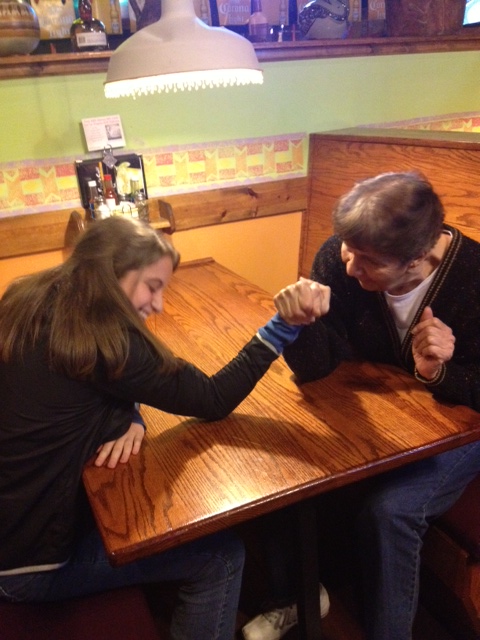 I'm 41 years old and my mom still scares me.