Last weekend my daughter's volleyball team played for the league championship. I'm going to be completely honest here and tell you that we were pretty certain they were going to lose. That's just the kind of parents we are.
Although they had improved a lot during the season, many of them had injuries this year and a lot of them had never played together before. It was quite a ragtag group who had just barely mastered the art of bump, set, spike. Our expectations were so low that my husband actually stayed home (at my request) so our son didn't have to get up too early.
But, instead of a loss the parents witnessed a win. The championship win, like with a trophy and medals and stuff. Excuse the blurry, enlarged thumbnail photo of my kid, but I had half a team to cut out of this.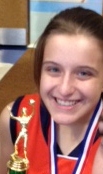 I can't really describe what it was like to watch those girls give it everything they had, despite their reputation. My daughter dove, slid and even bled a little; when all she really had to do was show up, and her teammates did the same.
I don't frequently learn valuable lessons from teenagers, but I did on Saturday. I can't tell you how often I feel like I'm trudging along, not making progress, and losing. My weight, the bills, my son's health and emotional issues, the bills, the bills, the bills, my insomnia, my dirty house, my writing…just everything.
What I realized from that ragtag team is that there is always a chance that I can come out of this on top; that if I dig in and fight hard, everything might turn out in my favor. It's an uphill battle, but I can't just give up.
There might just be a trophy waiting for me at the end.