Hi. Remember me? I'm the woman in a perpetual state of pony-tail. Pony-tail is not a state? Says you.
Last night I went to a gala fundraiser for a local special needs school and I wore something sparkly. Do you know what doesn't go with sparkly? Pony-tails. Actually, since Pinterest came along and made hair-dos the next DIY craze, I don't feel comfortable going anywhere with a rubberband in my hair.
So, once again, I turned to a tutorial. Some people use online tutorials to create their own wine racks from discarded wood pallets; I take bobby-pins and make a bun. Here's the video I used:
And, here's how mine turned out. This was only the first try, so I'm pretty happy with it. It was hard to pin the left side of my hair, but with a little practice I think I could do a better job. Clearly, the skill I really need to work on is taking a photo of the back of my head in a mirror.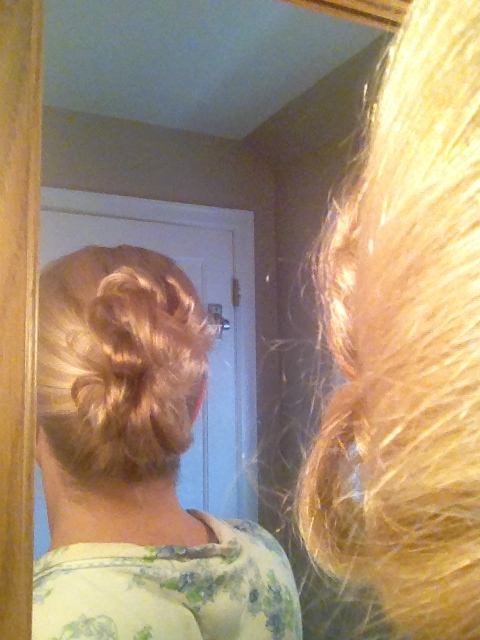 Other bloggers are choosing their favorite hairstyle tutorial videos and asking for your opinions on which you love most. Each week, BlogHer is giving away prizes to 3 lucky winners: one grand prize viewer will receive a $250 Visa gift card and two more folks will each receive a $100 Visa gift card! Visit the Prizes and Promotions page on BlogHer.com for more info!
Hair Sweepstakes Official Rules.