My 14 year old daughter came into this world 10 weeks early as a 2 lb. 9 oz. preemie; she was on a respirator, aspirated her first bottle of breastmilk, had a cyst in her brain, and spent 5 weeks in the hospital. It was kind of a bumpy start.
When she was 3 years old, her little brother was born. He, too, was a preemie and although he weighed a whole pound more than his big sister, he was very sick. The first few years of his life threw our family into an upheaval that only a family with medical problems can understand. Constant doctor visits, hospital stays, therapy, illnesses, and surgeries are not an easy thing for a young child to comprehend. Little brothers are supposed to be picked-upon, not danced around, gently, being careful not to knock out his IV.
But, through it all, our daughter has found a way to be a typical child…and so much more. Since she was in kindergarten she has played sports; lots of them. She's been in school musicals, served at church, volunteered for charities, been a tech assistant, lab assistant, and been on the Honor Roll more times than her father and I combined.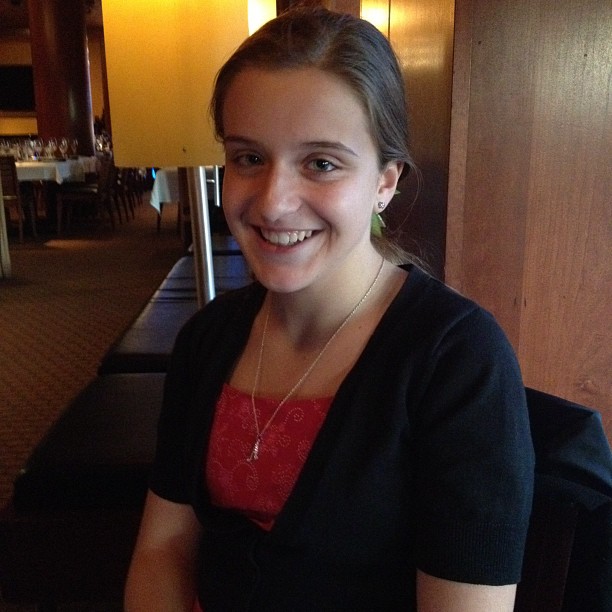 You know how sometimes things just fall into place without you making much effort? That's what happened here. I've never had to push her and I'm pretty sure if I had put her at the curb when she was 2 years old, she would have raised herself.
But, now? Now I'm pushing. Much like when a coach sees natural talent in an athlete and trains them for greatness, I'm doing the same thing…with my daughter's brain.
She is smart. She's wicked smart. She got the highest scores you could get on standardized tests for math and language. And, after taking a scholar search test, she placed in one of the top spots of her incoming freshman class. She was awarded a partial scholarship and an invitation to test at the next level. I've never been in the top 10 of anything in my life. Y'all, I AM PROUD.
So, yes, I'm pushing. If she doesn't get past this next round that's okay…REALLY. I don't want her to feel pressure, but I don't want her to waste what she has either. She can be anything she wants to be and having the freedom to choose her path is just the kind of empowerment I wish for her. Not everyone can decide between being an entrepreneur or an astrophysicist. Maybe she'll be both
Do I know what I'm doing? No. Do I have any experience? No. Am I going to do my best to make sure she recognizes the strength she has? Yes.
We don't know what the future holds, but I am certain of a few things; my daughter is amazing, I have never been more proud and, clearly, no man will ever be good enough for her.