On Wednesday, August 3, 2005, Columbus-based Lima Company Marine Unit lost 14 men to a roadside bomb just outside of Haditha, Iraq. I don't remember if we got the news about the bombing on Wednesday or Thursday, but I know there was a period of time when we were anxiously awaiting word that our nephew, Erik, was not among the dead.
I don't know how to describe the feelings of relief mixed with sadness when we heard Erik was alive. When he got back to Ohio that fall, I cried every time I saw him, because I knew many of his friends made a very different trip home. I was so grateful, that I was literally a sobbing mess every time he walked into a room.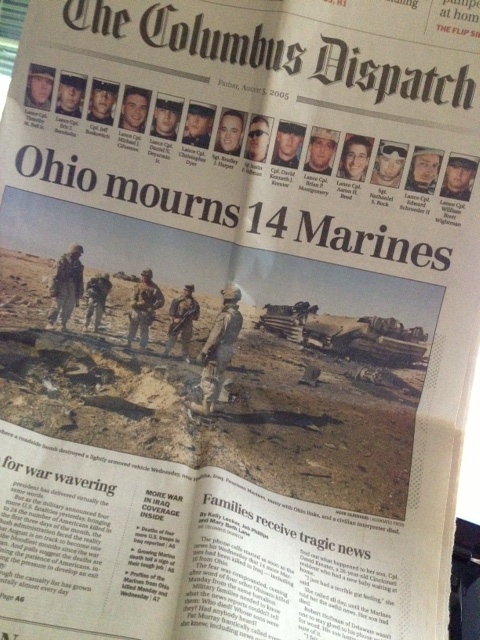 I saved this newspaper and keep it in a drawer where I come across it often. Someday I'll give it to Erik, if he wants it, though I'm sure he recalls that day without any physical reminders. I can't imagine what he saw, what he still sees, or if he can even talk about it. I know that this paper, the one I held in my hands when the grief was raw, reminds me that it happened and we were very, very scared.
And, it reminds me to be thankful that Erik, his brother Mike, our nephew Alex, and our friend Jeremy have all come home alive in the last few years. I saw Erik and Mike on Saturday. We hugged, talked, laughed, played drinking games, poker, and a seriously competitive game of Taboo. I am incredibly proud to be their aunt even if they won't let me win.
For all the families who are remembering their fallen this Memorial Day, thank you for sharing your sons and daughters with us. Their sacrifice, and yours, are not forgotten.