I don't text and drive, not because it's illegal, but because it's really dumb. I occasionally read texts at stoplights, but that's only because I am frequently parked at one particular light which lasts two full minutes.
That doesn't seem very long, until you're actually sitting there. It's long. Last week, I applied all of my makeup while sitting at that light. I even curled my eyelashes. Don't judge me.
If a text is urgent I will reply using Siri (yes Mom, texts can be urgent when you work on Twitter and you have a tweet about quilting about to go up in the middle of a national disaster…and, this is not to say that quilting isn't important, because it is…to quilters).
Sometimes, though, Siri doesn't cooperate. In fact, she's taken to insulting me.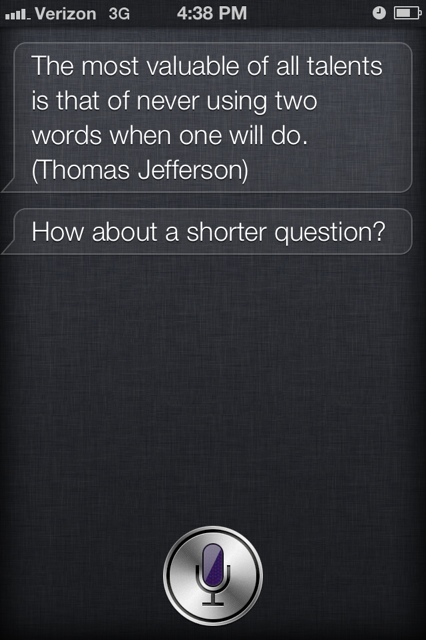 So I told my daughter to snap a picture of the screen so I could tattle on my iPhone like any adult would do, then I tried again.
Rude.
Clearly, Siri has selective hearing which makes her a lot like my children. And, my dog. I may as well ask her to clean her room, or unload the dishwasher, or stop rolling in dead animals.
But I will not cave. I will not text while driving even though I kind of want to just to show Siri that I CAN LIVE WITHOUT HER and her lack of help.
At least the quilters are happy.