When I was three years old I was in our basement watching Willy Wonka and the Chocolate Factory and playing with my cousins when I found a small, silver ring on the floor. Not a jewelry ring, but something that had probably fallen off of a toy because it was the dark ages and they didn't have choking warnings yet. Though, I was the 4th child, so even with a choking warning I would have been expected to give myself the Heimlich.
But, I didn't eat the little ring, I put it on my finger. A few minutes later, when my finger turned purple, I went upstairs to show my mom. She stayed calm, because 4th child, and drove me to a nearby fire station where the firefighters had a tool to cut the metal off my swollen hand.
I bet none of those firefighters remember that incident, but my mom and I sure do. Just as I remember the two times I've had to call the fire department to my house in the years since. It's amazing how safe you feel when you're in the presence of life-saving people. It's a total bonus that they look good in uniform.
Last night I attended an event at Firehouse Subs, where I got to meet the founder, Robin Sorenson. He and his brother were 2nd generation firefighters when they opened their first sub shop in Jacksonville, Florida.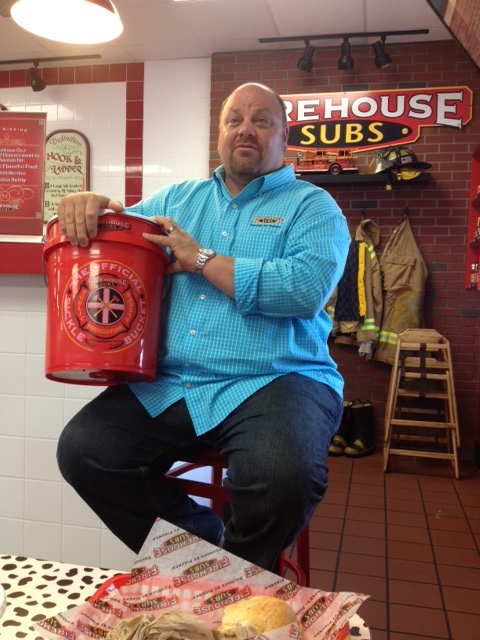 See the bucket he's holding? That's one of 150,000 barrels of pickles that Firehouse Subs empties, then resells for charity, each year. Just since opening one of their five shops in the Columbus area, they have donated over $220,000 to local fire departments for life-saving equipment.
That's just in central-Ohio. There are over 600 Firehouse Subs franchises and all of them give back to the communities in which they're located. I don't know about you, but that's a great reason for my family to eat there. But, if that isn't enough for you, just look at this brisket, oozing with cheese.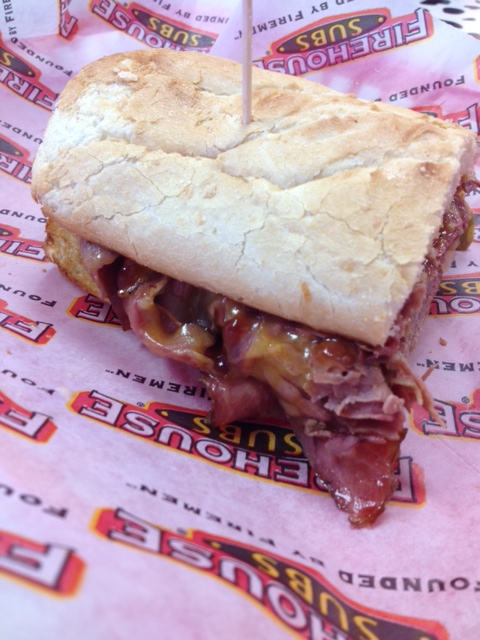 Mmm hmm. Plus, Firehouse Subs was voted No.1 fast food sandwich by Zagat and No. 1 sandwich in a Nation's Restaurant News Consumer Picks study. For real, its good.
And, because they can't stop being nice even if they tried, they've asked me to give a lucky reader $20.00 in gift cards! Just leave a comment on this post and tell me about a moment when a firefighter helped you or touched you in some way. You can earn an extra entry by tweeting about this giveaway and leaving the URL to your tweet in a comment on this post.
This contest ends on June 17th, 2013 at noon EDT. One winner will be chosen from among qualified entries. Good luck and happy eating!