What happens when you take Queen Latifah, Sheryl Sandberg, Wendi McClendon-Covey (of Bridesmaids fame), Randi Zuckerberg, Gale Anne-Hurd (as in the writer/producer of Terminator, and producer of AMC's The Walking Dead), many, many more talented and inspirational speakers, hundreds of brands, and thousands of bloggers?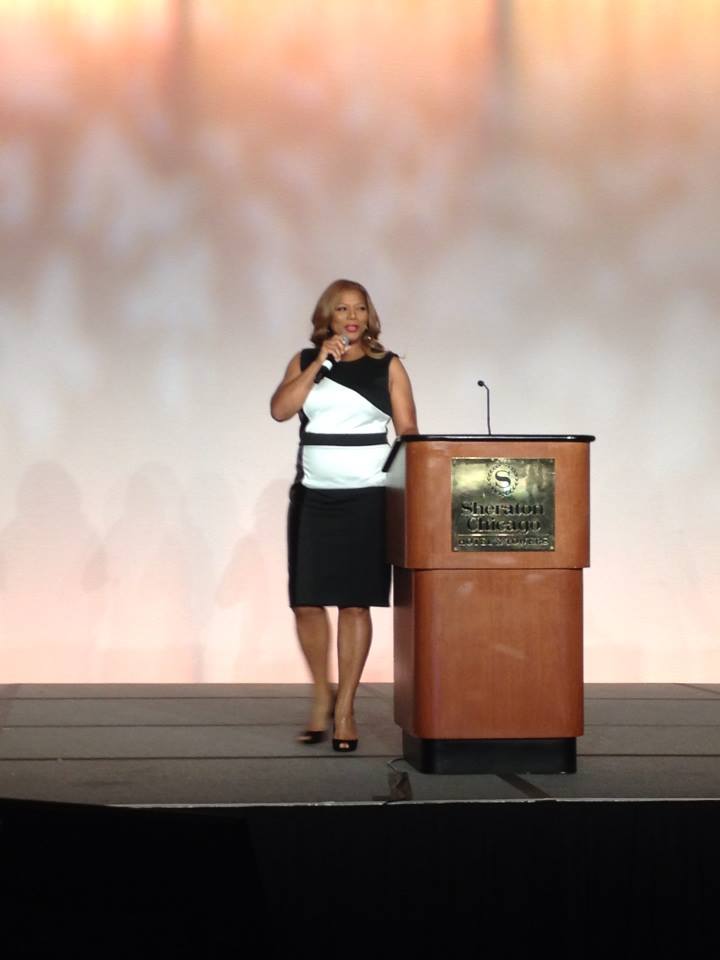 Why, BlogHer '13 of course.
Now imagine the logistics of all of that; the food (including vegan and gluten-free options), signage, transportation, set-up, registration, social media, programming, promotion, and every last detail down to a lactation lounge, a fashion show, a shipping station, and transcribed session content – and imagine all of it being managed by a staff of about 15 people. That, folks, is really where I've been.
Let's put it this way, I picked up a copy of USA Today on Thursday and didn't even get a chance to read this article until Sunday.
U – S – A – Today.
So it's weird, you know? It's weird to have the cell phone numbers of those three women, or be a fangirl of all these big name speakers and Food Network stars like Ree Drummond who is actually one of your greatest friends. Just so you know, it's possible to be inspired by Ree AND pose for a picture with her in which you accidentally move Anissa's wheelchair with your breast. Yes, that happened. (Thanks for the photo, Cecily.)
It's weird to only see your co-workers a couple of times a year. Or have the opportunity to hang out with your co-worker/BBFF/Bedazzler-Extraordinaire, Melisa and be TOTALLY fine with walking around in the shirt she made you. She, literally, can not help herself. I love her.
And, it's odd that I speak on panels with unbelievably powerful women, with great stories and amazing hair.
It's strange to have one of Forbes' Most Powerful Women in the World sitting just feet away when she gives you a great quote like this:
.@sherylsandberg "Next time u are going to call your daughter Bossy, take a deep breath/say she has executive leadership skills" #BlogHer13

— BlogHer Conferences (@BlogHerEvents) July 27, 2013
— BlogHer Conferences (@BlogHerEvents) July 27, 2013
It's crazy to walk through the Expo Hall at the conference and get a manicure from Kiss USA, grab a drink from Dailey's Cocktails (or Turning Leaf, or Moskato Life, or Yellow Tail), pet a puppy from ASPCA, check out a generator from Ryobi Tools, swoon over We Montage, and fall so deeply in love with the Shark Sonic Duo that you almost grabbed it and ran.
I got products I love (and will buy again) from some of them, and from Windex, White Cloud, Samsung, Folgers, ULTA Beauty, Walgreens, CLR, Jamba Juice, Orbit Gum, and Budweiser's STRAW-BER-ITA. As a matter of fact, I want a STRAW-BER-ITA right-NOW-er-ita. I also learned about the good work of companies like Etymotic and Camp Wonder, supported generously by Cetaphil. Social good makes me warm and fuzzy.
I think the brands were better than ever this year and they GOT IT. They understood that blogs and social media are the new front porch/back fence/water-coolers of the world. Trust me, if I like something I'm sure as heck going to tell you so. And, who would've thought that 10 years ago? Uh, no one. See? More weirdness.
So, it's surreal; this enormous gathering of (mostly) women from all over the world who affect change, share stories, and influence people online. It's the only place I've ever been where it isn't considered rude to pull out your phone in the middle of a conversation and send a tweet. Bloggers are nothing if not multi-taskers. We are often simultaneously posting to Twitter, Facebook, IM, and email. While we're making dinner. And, picking up after our kids.
In all it's weirdness, though, BlogHer is the one time of year where everything is familiar. It's my people. We are writers, educators, brand ambassadors, and a hundred other labels, but above all we are bloggers.
And, I will own that weirdness all day long.