I am a Buckeye born and bred. Even though I would move from this state in a heartbeat if I could get my husband to move west, I would still be, and will always be, a Buckeye. You can be proud of the state in which you were raised and still hate winter. Just sayin'.
Ideally, I would only move away for the cold months – and maybe some of the hot ones – but, spring isn't bad and fall is just gorgeous around here. It would be hard to be away from September-November because the trees turn fiery, the wind is crisp, and Buckeye football rules all.
In Chicago recently, I was at a group dinner when I was introduced to a man sitting on my right. He asked where I was from and I said, "Columbus."
He replied, "Columbus…Ohi0?
I nodded and he said, "O-H!"
And I answered, "I-O!"
Then everyone else at the table looked at us like we were crazy.
Don't judge us! We spell it so we're not confused with Iowa.
In a few weeks, when football season begins, I will don this shirt from The Home. T and wear it with pride. And, comfort. I boast my allegiance to all things Buckeye in softness. Buttery softness.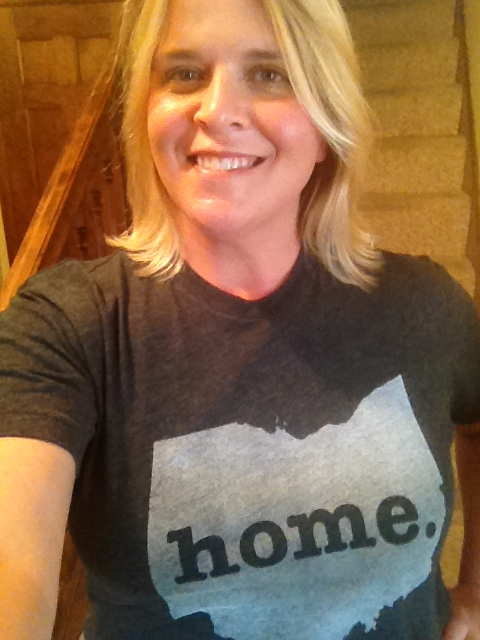 At the same time, I'll be showing my loyalty to my country (every Home. T is made in the U.S.A.) and my family and friends (a portion of profits is donated to Multiple Sclerosis research). I'm covering my bases in one fell-swoop and one very soft t-shirt. Ohioans rock at multi-tasking; we can watch football, drink beer AND milk a cow at the same time.
Where do you consider home? Would you wear it proudly across your chest? See if your state's shirt is available, here!
Disclosure: I was sent a free Home. T for review. I also disclose that I love this shirt!