When my daughter was little she was an N'Sync fan. Remember N'Sync? Slick hair, slick clothes, smooth voices, boy band extraordinaire?
One of my friends gave her a t-shirt that looked just like this: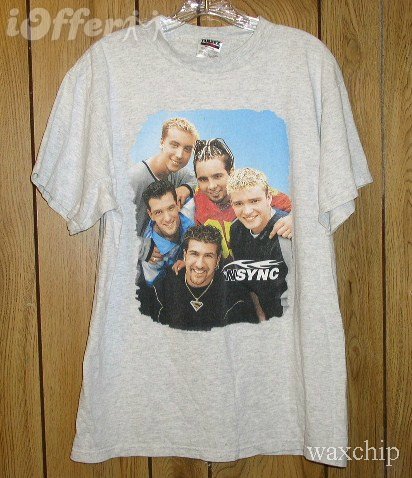 I know this shirt is around here somewhere, but I can't find it which is why I took this image from an auction site and didn't snap one myself. I would have NEVER gotten rid of it. She wore it to bed every night and I'm sure I have it stashed somewhere safe, but my "somewhere safe stash" is always a place I can't remember. It will turn up, probably next year when I'm looking for a turkey baster.
Somewhere in her youth, I started liking N'Sync too. Maybe it was all the Barney that did me in and when I couldn't take another minute of songs about sunshine, I took to her new-found interest in music I could actually tolerate. Over the past five years or so, my tolerating turned into true appreciation for the solo artist Justin Timberlake became after N'Sync split up. Recently, my appreciation has turned into JT being just about all I listen to.
Yesterday, my husband surprised me and my daughter with Justin Timberlake tickets for tonight's concert. JT has managed to do what very few people can, which is close the 27 year generation gap between me and my kid. We both screamed when we found out we were going. We are both exceptionally excited about this show.
So, I WILL find this shirt. Not because either one of us would actually wear it (or fit in it, for that matter), but because it's a piece of something we've shared together from the start. It's a fond memory for me and I love that we are going to add this concert to the scrapbook in my mind.
But there is one more thing that needs to be said and my heart wouldn't feel right if I didn't get it off my chest. Before we leave for the show I'm going to give my daughter a hug and whisper in her ear, "I'm so excited to be seeing Justin Timberlake with you, but no matter how happy it would make you or how much we could bond, I want you to know that I will never, ever like One Direction."