We went to a wedding yesterday for our nephew Mike and his lovely bride, Lisa. This picture was shamelessly stolen from my sister-in-law. Thanks, Laura! Though next time, let's make sure we watch for background light diffusion and foreground shadows. I know these technical things because I often take pictures of my dog with my phone. That pretty much makes me an expert.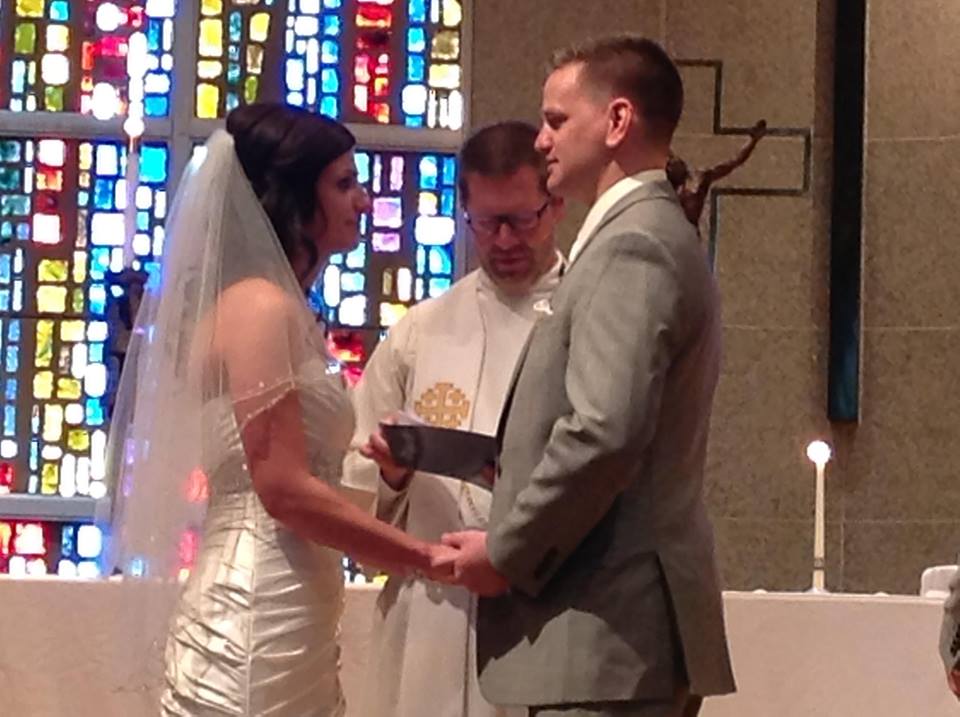 Mike was just a kid when his uncle and I started dating; back then, we still called him Michael. It was before middle school and braces and long before he joined the Marines and served in Afghanistan. I never anticipated that I'd be giving that kid unsolicited marital advice, but while he was busy growing up, I was busy getting relationship experience under my belt. It's kind of my duty to tell him. It's like I'm the Godfather. Except I'm a woman. And, not in the mafia. Here goes:
Dear Mike,
First, let me say that your brother gave an excellent speech last night: "People always say, 'Don't go to bed mad,' but when the kids are crying and you're tired, and fighting with your spouse, sometimes you just need to go to bed and things will be better in the morning." I concur. Wholeheartedly. Just sleep.
There will be times when you are so angry – and sometimes it's not even anger but just sheer monotony – and you think there's NO WAY things can get better. You'll think you can't possibly spend another day with this person, let alone the rest of your life.
But, when you get through it you won't believe how much stronger your relationship is. You will love your wife like never before and you won't understand how you could have ever thought otherwise. Except for maybe when she tracks mud in across your just mopped floor. Or leaves the seat up in the middle of the night. But, let's hope she won't do that.
I know you realize this commitment is forever, so don't ever say anything to her that you wouldn't want said to you. Or, if she's like me and holds a grudge for years, don't say anything that she can throw in your face a decade from now. Women have good memories and we can use them for evil.
Kiss her every day. Tell her you love her. Rub her shoulders. Hold hands. Split the chores – and occasionally do hers as a surprise. That last bit of advice is really for your uncle. Hi honey! But, really. Housework is hot.
Oh, and one last thing; this marriage stuff is hard and you WILL screw it up. You both will. It is also the most beautiful, rewarding, comforting, secure partnership you will ever have, as long as you remember that you're in this together. Forever.
You got this.
Love,
Aunt Diane