Today was our annual reality check.
Before autism, eye surgeries, infections and hospitalizations; before kidney problems, hearing aids, choking and vomiting; before speech, occupational, physical and behavioral therapy. Before it all, there was his heart.
I was six months pregnant when he got his first echocardiogram. I waddled down the halls of Nationwide Children's Hospital, then laid upon a table while a doctor looked at the right ventricle of his heart. It couldn't have been much bigger than a peanut. I was decidedly bigger than one.
When his rare heart condition worsened two months later, they took him from my belly and whisked him away to Nationwide Children's in an ambulance while I, again, laid upon a table. This time I was miles away and I didn't get to see him until two days later when they let me leave the hospital for a few hours. It was Mother's Day. It was fitting, but gut-wrenching.
They told us he would be sedated until he reached five pounds and then he would need open heart surgery. They were, thankfully, wrong. He came home three weeks later without that surgery. Almost 12 years later, though, it's still looming over our heads.
So each year we trek back to those same halls and now it's my boy who climbs onto the table. We are all stronger than we once were. He is 52 pounds of unstoppable energy. I am not. But, when I spy parents wearing "CARDIOLOGY" badges we smile, nod, and give each other mental fist bumps.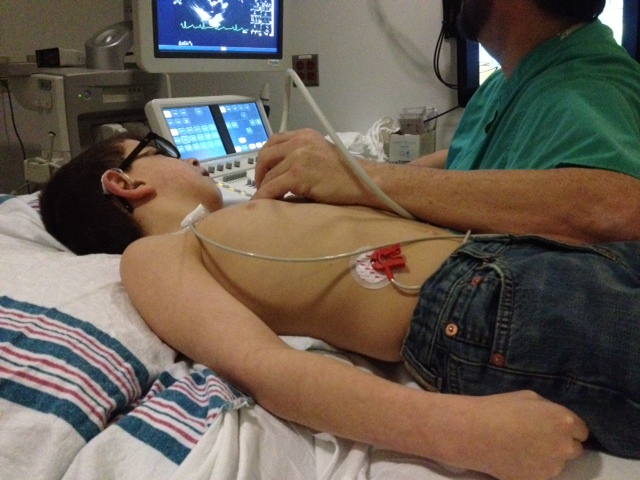 He still needs open heart surgery at some point, but we're waiting. Stalling, if you will. Hoping, praying, and prodding the doctors to improve their technology so they won't have to cut his chest open, spread his ribs apart and cut into his heart with a knife.
He had a heart catheterization when he was 13 months old and it was one of the easier surgeries he's had. This is what we hope for. This is why we're glad he's small and grows slowly, so that his heart can keep up and each year that passes we know the doctors get closer to fixing this in a less invasive way. Today I chanted, "We want a heart cath! We want a heart cath!" If only my cheerleading could be enough to make it happen.
For today, though, he is stable and that's really all we can ask for. That, and one more year until we have to walk those halls again.
Save