Do you ever think about the things that make you truly happy? If you don't, you should. When you're searching for peace, you think of them a lot. Trust me, I know.
I'll give Maria raindrops on roses and whiskers on kittens, but she loses me at bright copper kettles. I mean, you'd REALLY have to love tea. I like tea, but I don't care how the water gets boiled. Plus, I think you have to polish copper and I hate chores.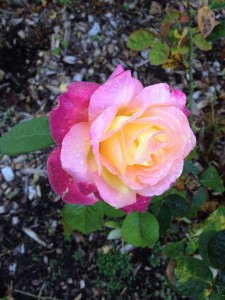 So, what does make me happy – or, rather, peaceful? In no particular order:
1. Sunshine.
2. My husband touching my face or hair. The touch of a cheek or gently holding the nape of a neck is intimate and lovely.
3. A clear, starry sky. For making wishes.
4. Intense, exhausting workouts. I don't look happy while I'm doing them and I complain A LOT, but pulling a rope with a 400 lb. tire attached to the other end makes me feel strong, powerful and confident even though my face is purple and I'm dripping with sweat.
5. Watching my kids try anything. A new food, a new experience, a new activity; seeing them attempt something makes them achievers in my eyes, even if they fail.
6. Cold beer. Duh.
7. The beach. Sand between my toes, the sound of the waves, and saltwater making my hair look pretty without any effort – I'll take that ALL DAY LONG. Combined with #1, #5 and #6? Heaven.
8. A clean house. I never get this one. Never.
9. A good movie. Throw in Milk Duds and it's even better.
10. Puppies, good friends, flowers, board games, slow-dancing, campfires, music, and snuggling. Not all at once, but I didn't want this list to get too long.
While things have seemed kind of bleak lately, I'm finding it helpful to come back to this list to seek out, and give myself, the things I can. Thankfully, that hasn't resulted in too many Milk Duds, but don't even come near me without expecting a snuggle.
What would your list look like? What are your favorite things?