In the midst of shopping, wrapping, singing and snacking, our family has been hit with the flu. My 15-year old daughter missed her first day of school in years, I got a bonus bronchial infection and my 12-year old, autistic son felt so bad that he actually allowed a nurse to swab his nose without a fight. My husband? Well, his cheeks turned rosy, he sneezed twice, took a nap and was all better.
I am increasingly anxious, because I haven't been to the gym or gone for a run in six days and my daughter is so bored she actually started cleaning the bathrooms without being asked. My son is anxious AND bored and walks around moping a lot asking, "What can I doooooooooo?"
Since he is especially pathetic when he's sick, I do my best to keep his mind off of it so we don't get sucked into his tears and start handing him Christmas presents early. Video games and movies aren't great options because the more he lies around, the more weak and mopey he gets. So, like any good mom, I brought out the crafts.
But, unlike a good mom, I couldn't remember how to cut a snowflake.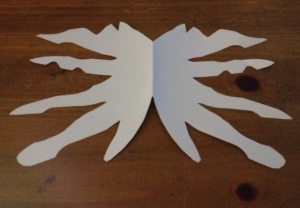 Thankfully, he likes spiders.