For months, in a tiny space where my children didn't fill my heart, there was aching darkness. Even though it didn't need much room to exist, the hole felt gaping, like a giant, black pit. You could've thrown a Chevy in there and it wouldn't have touched either side.
Now that pit feels about the size of…well, a pit. Not even a big, lumpy peach pit either, but one of those little ones inside a cherry. And, not only is the pit tiny, I'm taking the cherries and making cherry pie, à la mode.
I never anticipated my life, or the lives of my children, to turn out like this, and that still makes me sad. But, we will be okay. I know that now and I didn't know that for a long, long time. I'm finding meaning in the pain and that's healing me. We are finding normal, we are happy, and we are learning and growing in ways we didn't know possible.
That growth is a beautiful thing. I am enjoying new things and appreciating new experiences and I'm no longer judged for it. I might find that I suddenly want to decorate my house with neon lights, and I CAN.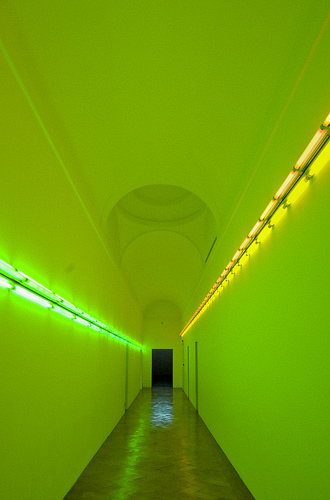 photo credit: 171 via photopin (license)
I've had four friends in the last 24 hours tell me they were suicidal while going through divorce and I could understand that pain. It's the absolute worst thing I've ever dealt with in my life and it hurts like nothing I've ever known. I remember people telling me it gets better and I wanted to scream at them and say, "Shut up! You DON'T KNOW! I'm DYING INSIDE!" Now I get it. It does get better. I can honestly say that I'm happy. I feel a little guilty saying it, but it's true.
There is nothing – absolutely nothing – you can say to someone going through this to make them think you understand or that they are going to be okay. Nothing. Hold them, hug them, sit with them, love them, but don't tell them it will get better. They have to trudge through the darkness until they see the light for themselves.
They may not think they'll ever see it, but I am proof it is there.