If you are a friend of mine, you know that any time you have an ailment I'm going to suggest apple cider vinegar as a cure. A best friend and proponent of this health potion got me drinking it years ago. Now, it's a daily habit.
I know a few of you who have listened to me and bought ACV, but I also know that it's just sitting there, still sealed, in your cabinet. I'm here to say DON'T FEAR THE VINEGAR. Embrace it. Here's what you need to know, and to be clear, these are my opinions. I'm not a medical expert. I'm a blogger, so if you're going to try it, please talk to your doctor first.
1. Buy organic, unfiltered, unpasteurized ACV with little bits of fleshy substance called the Mother. I get Bragg. It has all the good stuff you're looking for in your apple cider vinegar.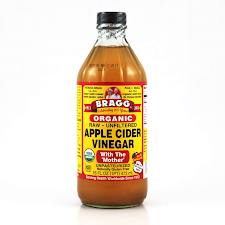 2. Drink 1 or 2 teaspoons of ACV mixed with cold water, up to 3 times a day. Bragg suggests you mix in honey, but I don't like honey in my drinks – not even tea – so I'm sure as heck not going to mix it with vinegar. *shudder* I actually drink mine like a shot. I take 4 teaspoons, straight, with a water chaser, once a day.
3. No matter how you do it, it's going to taste bad. It's vinegar, people. Plug your nose and drink it.
4. I take a shot about 30 minutes before a cross-fit workout for a little energy boost. My trainer swears by it, as long as I don't breathe on him.
5. It's great for sore throats. Mix a couple of teaspoons in 1/4 cup of water, gargle and swallow. My daughter says it doesn't help, but I found out that she was only saying that so I wouldn't make her do it anymore. See #3. For the record, since I made her start gargling ACV for sore throats, she hasn't had strep. Not in years.
6. A few months ago, I had heartburn so bad that I thought I was having a heart attack. I took over the counter antacids, then switched to prescription antacids, and it wouldn't go away. I was in so much pain in the middle of the night and I thought I'd try ACV.  I have no idea what made me think of it, because it seems counter-intuitive, but within minutes of drinking, the heartburn lessened. I drank more about an hour later and the heartburn went away completely. Then I found a bunch of people on the Internet who said the same thing. (Note: If you think you're having a heart attack, don't drink vinegar. Go to the ER.)
7. Clear up a pimple by dabbing it with a cotton ball dipped in ACV.
8. Do the same thing to treat a sunburn.
9. Though we have never had lice (*knocks on ALL THE WOOD*), I once thought we had lice so I soaked my head in apple cider vinegar, covered it with a shower cap, then wrapped it in a towel and went to bed. The "lice" turned out to be dandruff, but my hair was super shiny the next day!
10. I can't prove it has done these things for me, but ACV is purported to help lower cholesterol and glucose levels.
So what do you have to lose? Plug your nose and bottoms up!