One of my new work duties is hosting Twitter chats every couple of weeks. Mom, Twitter is where you talk back and forth to other people in 140 characters or less. Next week's lesson will be on hashtags.
Yesterday's #BlogHerTalks chat was about hair. We talked about natural hair, colored hair, over-treated hair, shrimp gumbo, shrimp scampi, and cocktail shrimp. Wait…
Although I'm a woman, and I have hair, I didn't have much to offer style-wise to the conversation, because my hair mostly looks like this: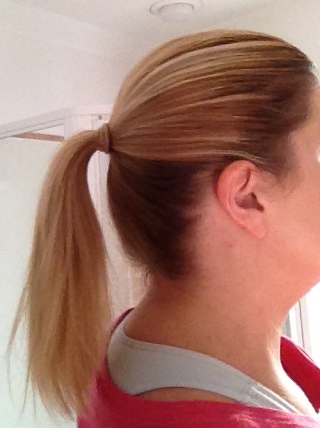 Don't be jealous.
The fact is, I have very fine, thin hair, so I don't like to over-treat it. Plus, I work from home so I don't have a need to impress people with my locks. Thank goodness.
But, occasionally I like to put some effort into it. With summer coming, I know my hair will be in a pony-tail more than ever. Can you say hot-flashes? So I searched for a way to make my plain-Jane-pony a little less boring and I found this.
I followed the advice and styled my hair in about three minutes (see aforementioned fine, thin description…I can practically fit all of my tresses in a curling iron at one time).
What do you think? I mean, besides the fact that I need a dye job.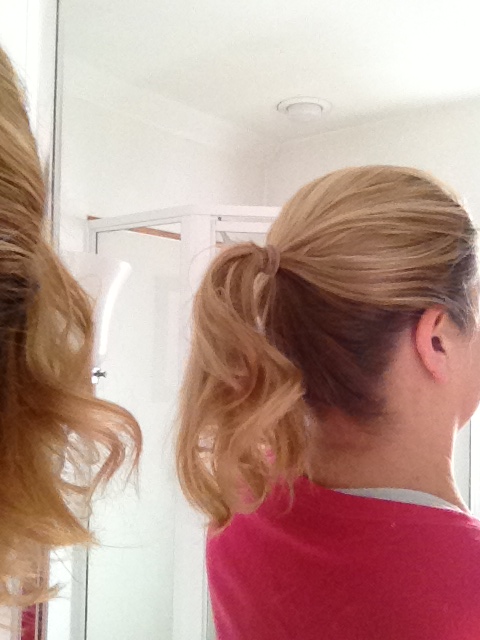 Other bloggers are choosing their favorite hairstyle tutorial videos and asking for your opinions on which you love most. Each week, BlogHer is giving away prizes to 3 lucky winners: one grand prize viewer will receive a $250 Visa gift card and two more folks will each receive a $100 Visa gift card! Visit the Prizes and Promotions page on BlogHer.com for more info!
Hair Sweepstakes Official Rules.