This post is sponsored as part of my participation in the Netflix Stream Team.
Don't tell 2015, but we rang in the New Year a little early.
Last night, we ate good food, hung streamers and balloons and brought out party hats and noise-makers; half the reason was to celebrate my daughter's birthday, half was to enjoy the new, original Netflix series, All Hail King Julien and the other half was to send 2014 out with a bang. Hey, when we throw a party we give it 150%.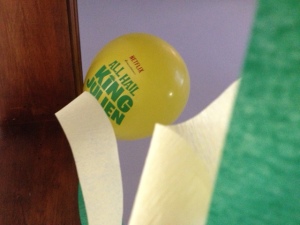 After cake and ice cream, Pa and I nestled all snug in our bed, while the kids stayed up singing Move It, Move It! and watching Netflix until 5:00am. FIVE. A. M. Which, ironically, is when I got up for the day.
So, tonight our ball is dropping early thanks to King Julien and his kid-sized countdown special. (Hey, he caused this lack of sleep – it's only right that he fix it!) You can start streaming the kid-sized countdown at any time of day and ring in the New Year without staying up until midnight. That word you're looking for? Genius.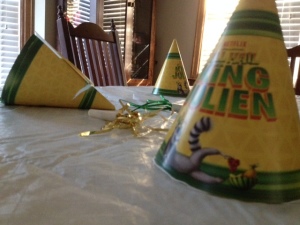 You won't have as much mess to clean up and you'll have plenty of energy for a series-long Friends marathon which starts streaming on Netflix tomorrow! Could I BE any more excited?
Happy New Year, everyone! If you need me, I'll be on Netflix.