After spending 10 years as a stay-at-home-mom, I dipped my toes into blogging in 2007. I attended my first blogging conference (BlogHer) in 2009 and though I didn't consider myself a professional, by any stretch of the imagination, I was told that I needed to bring business cards.
I ordered free cards and they were…okay. They were kind of ugly and not great quality, but they came in handy when I wanted to share my blog information with other bloggers and the many PR folks in attendance. I think I could have made a much better impression.
Recently, I purchased new cards because I wanted to incorporate my new logo which was changed during my blog redesign.
These cards had my logo (which is pretty big) and all of the other, usual, contact information. I was so excited to get them, but I was very disappointed when I did. The cards looked busy and jumbled. There was too much stuff in too small of a space.
So, when Tiny Prints recently offered to send me some new business cards for review, I jumped at the chance. BlogHer'11 is in a few weeks and I didn't want to hand out cards that people would just toss away.
Again, I wanted to incorporate my logo because I wanted to have something that spoke to my personal brand…something that stands out. I perused the choices at Tiny Prints, but just couldn't make the logo work. Putting it on my business cards wasn't going to happen.
I wondered what else I could do to stand out from the thousands of other people with business cards at BlogHer and it was like a lightbulb went off over my head. My nickname!
Just about everyone calls me Momo and though I lamented the name of my blog for a couple of years, it has completely benefited me to have this nickname. You meet a lot of Kathy's, Jen's and Sue's…but, you don't meet a lot of Momo's. People can't really forget that name.
So, voila! Here are my new cards! Aren't they perfect?!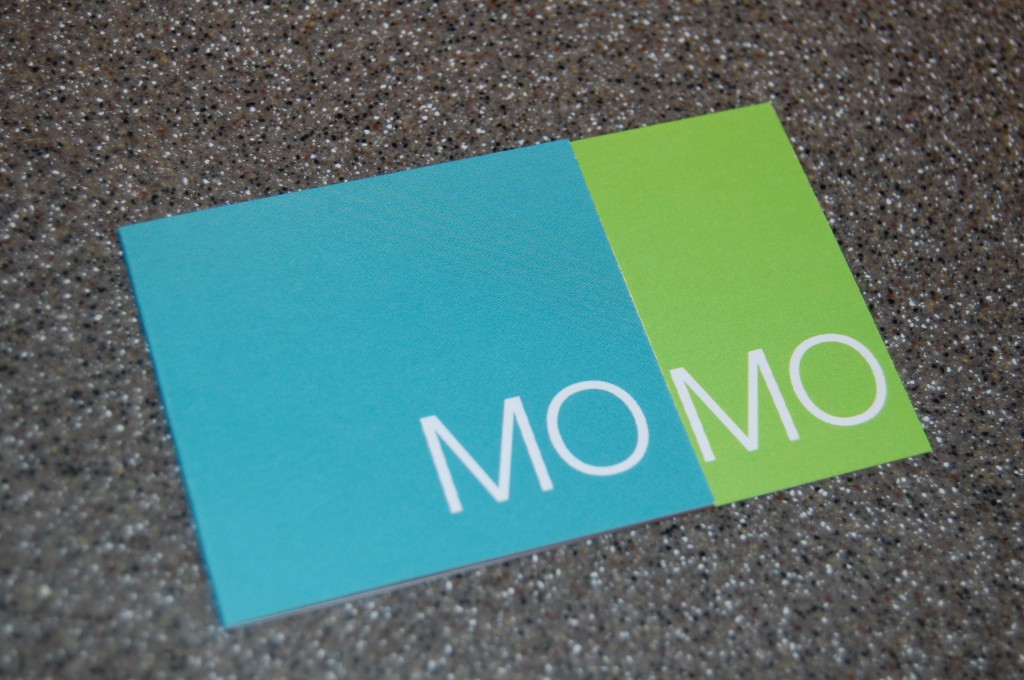 LOVE!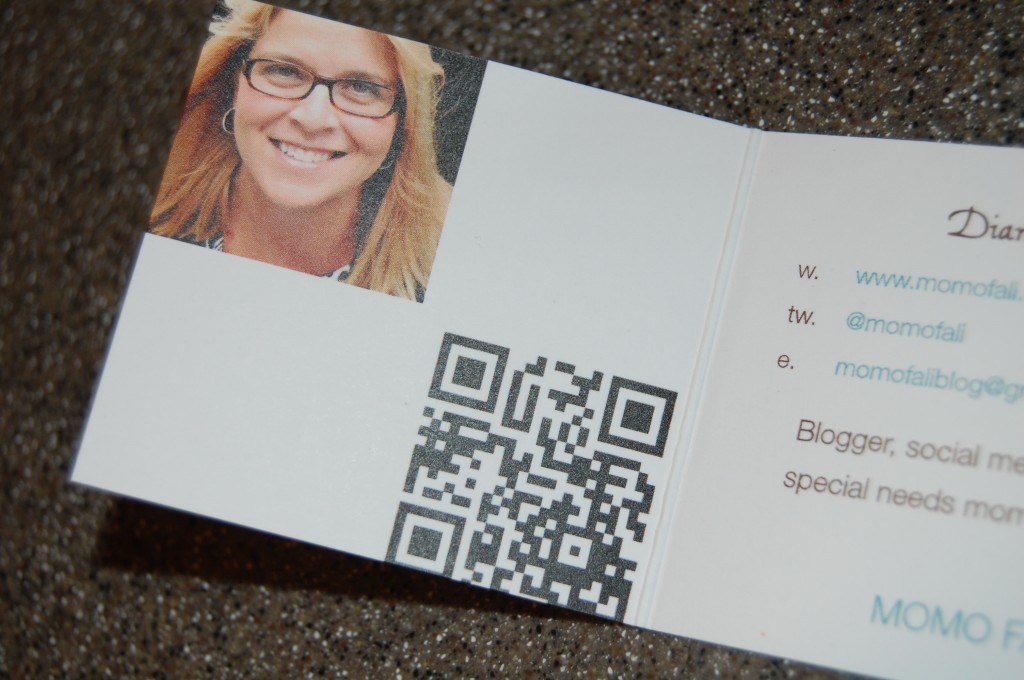 I was able to include a QR code AND a picture so people would associate the card with the face.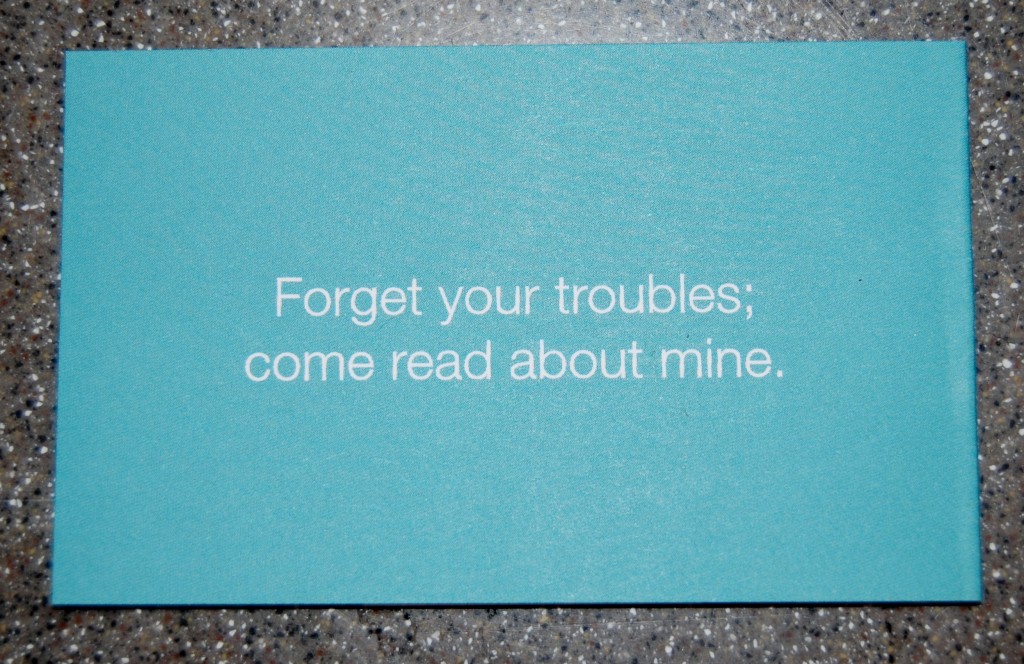 I put my tagline on the back.
Fabulous…no? My brand is all over these cards, inside and out. They are on high quality stock and I think they will make a great impression, which is the whole purpose behind business cards, right?
And, Tiny Prints doesn't just do business cards…which is why I could spend ALL DAY on their site. Look at these beauties: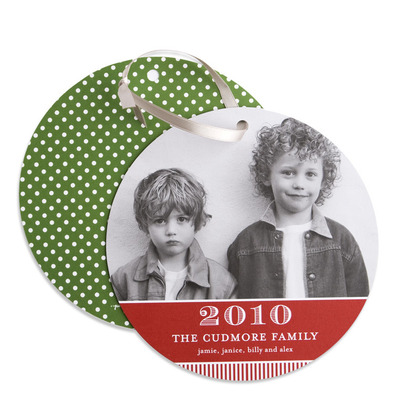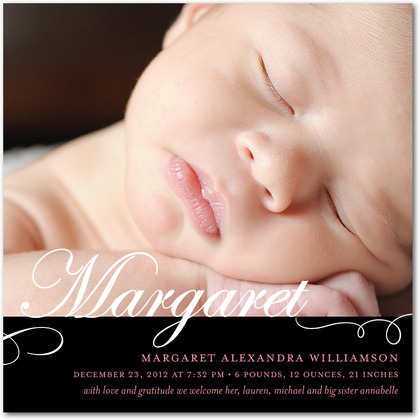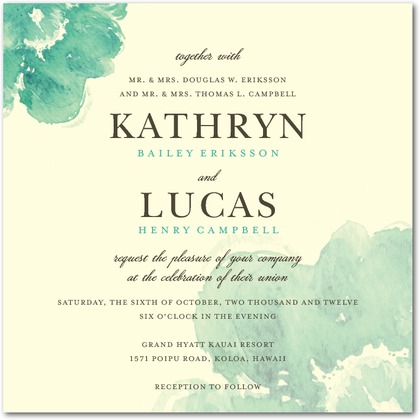 If you need a great looking, quality paper product, look no further than Tiny Prints. And, if you'll be a at BlogHer, come say hi. I'll be the one with the awesome cards.