Since we returned from our vacation I have been asked a lot of questions about Key West. As people begin to plan their spring break getaways, I thought I'd share my favorite things about this southernmost city and some tips to get you started to having a whole lot of fun if you go.
First and foremost, know someone on the inside. We were fortunate to have Toni as our personal concierge, and who happens to be a Key West celebrity. She was born there, practically raised in her father's saloon (see #1 under Must Do Activities), and knows anything and everything about the town. She not only hand-picked family-friendly activities for us, she emailed me an itinerary that was spot-on. I kind of want her to organize my life.
Why you should visit:
1. You can't get anywhere in the continental United States that is farther south, which means it's WARM. My kids went swimming every day, we wore shorts, and I even got a tan. I'm quite the novelty in Ohio right now.
2. Rich history abounds and I'm not just talking about Hemingway. The island's early inhabitants were a resourceful lot of shipwreckers who made money by salvaging. The Shipwreck Museum was one of my son's favorite places to visit.
3. Culture, diversity, and Cuban food. Need I say more?
4. It's walkable. We stayed on the "quiet" side of the island and walked to the other end (Old Town) almost every day. Along the route there were stores, restaurants, art galleries (tip: If you have children with you, keep them out of the t-shirt shops) and once we got to Old Town there were museums, the Key West Aquarium, and more activities than a family of four can tackle on a five day trip.
Must do activities:
1. Have a drink at Captain Tony's Saloon – If you want a real Key West history lesson, step inside this colorful landmark and belly up with the locals. This is where Hemingway spent many evenings and Jimmy Buffet got his start (and is the bar he immortalized in "Last Mango in Paris."
2. Parasailing – The first time I went parasailing in the Bahamas the boat pulled us up in the air from a platform that was docked about 300 yards off the beach. We had to LAND on the platform too. All I could think about the entire time (other than the lightning storm…not kidding) was about how I was going to have to stick the landing or end up in the Atlantic Ocean trapped under a parachute. The Key West experience was a MUCH better one. They sent us up from the boat and reeled us back in. It was a breeze. Plus, I got to go up in a tandem harness with my son. It was an unbelievable experience and I got to share it with my kid. Bonus.
3. Jet Skiing – SO MUCH FUN. The end.
4. Trolley Tour – You can take a trip all the way around the island, get a history lesson, check out the architecture, and you have an open-air ride in the saltwater breeze.
5. Drink a Goombay Smash at Hog's Breath Saloon – This was Melisa's idea and ohmygoodness does she make good suggestions. You'll be happy you have a trolley ride home afterward, too. Yum.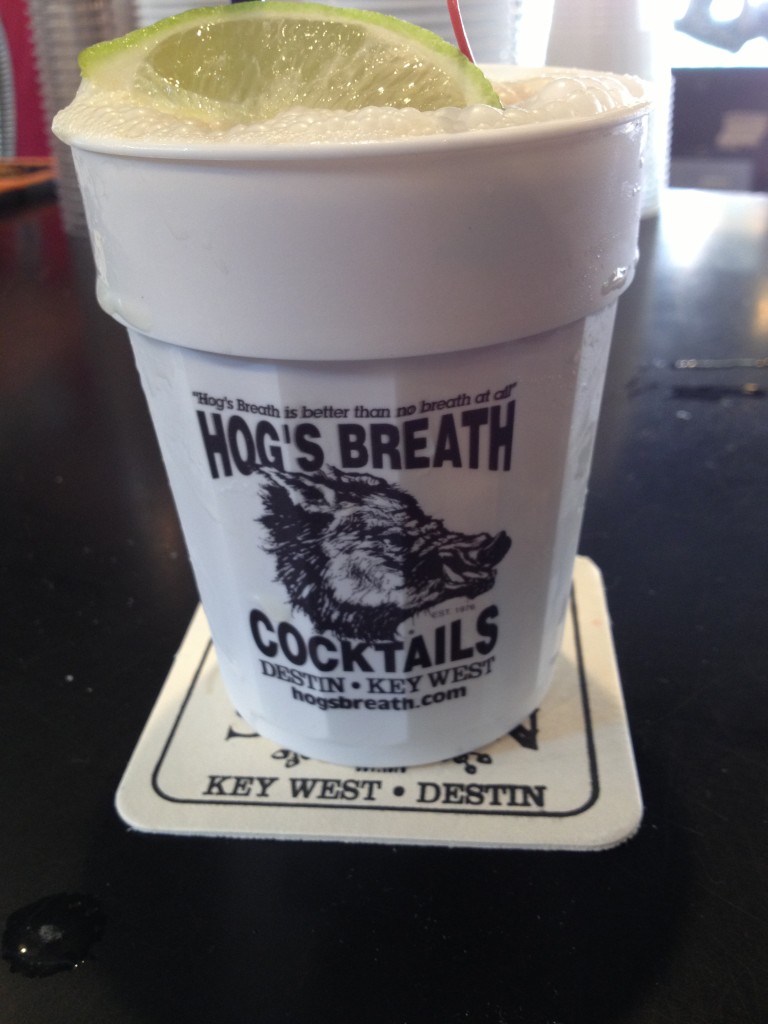 6. The Sunset Celebration at Mallory Square – I don't know how to describe this, but it's a must-do. It's kind of like a circus and you walk around from act to act to see the jugglers, acrobats, and sword swallowers then watch the sun go down. This was a fitting end to a day that started with a Goombay Smash before noon.
7. Visit the Southernmost Point in the Continental United States – Just to say you did.
Tips:
1. Don't feed the roosters or the pigeons. Or the herons.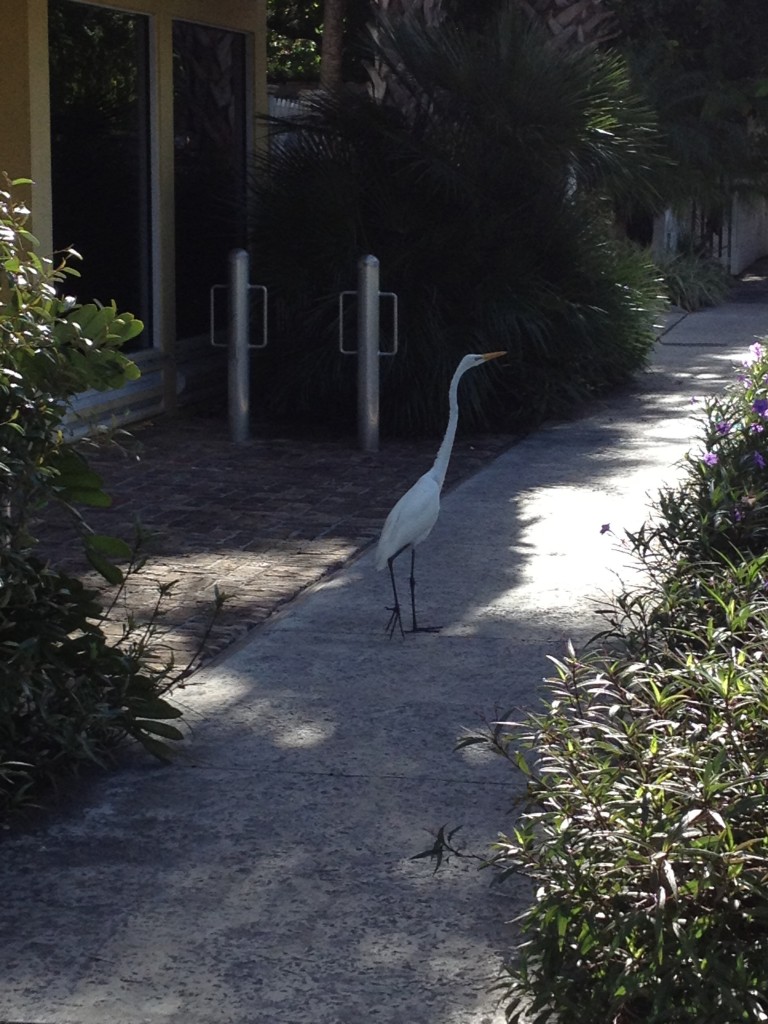 2. Go to the nearest drug store or supermarket to pick up snacks. There isn't a lot of inexpensive food in Key West and having a bag of cashews will go a long way to tiding everyone over.
3. Wear sunscreen. Even if you think you don't need any.
4. Carry hand sanitizer. The public restrooms we used at Mallory Square had no soap dispensers. *shudder*
5. Go off the beaten path. We attended mass at The Basilica of Saint Mary Star of the Sea which was beautiful, serene, welcoming, and not at all a tourist destination. We walked through the gardens and visited the grotto where people light candles and pray before hurricanes. Also, they gave us coffee and doughnuts. So, there's that.
6. Know ahead of time that there aren't a lot of beaches. Key West is a big rock and though you can find sandy spots, not every hotel has one. If it's important to you, do your searching.
7. From what we've been told, you shouldn't visit Key West with children around Halloween; unless your kids like huge crowds who mostly wear body paint.
8. Pack your flip-flops and have a blast!