The past few weeks have been tough; not as tough as I thought they would be because there is some peace that comes after the kind of anxiety I was facing. Not knowing where your future lies is terrifying – and that's where I was for months. At least now I know where I stand – squarely on the other side of the door.
I have continued running to lift my spirits (and my hind end), I have been making my bed every day, buying healthy food, going to church, showering, working and fixing things around my apartment. I am in constant contact with friends and family whose love and support are a lifeline. I am moving. I don't know if I'm moving forward yet, but it's at least in some direction.
The other day, I even put on lipstick.
That afternoon, I caught a glimpse of myself in the mirror by my front door and thought, this is no beauty queen, but considering what I've been through, it will do just fine. My hair was curled, my green eyes weren't red and puffy, my cheeks weren't splotchy, my under-eye, black circles were reduced to sepia. This? This was progress.
I plastered on a smile and took a picture for proof. My mother, she worries.
And, then I saw it.
Do you see it? Look. LOOOOOOOOOK.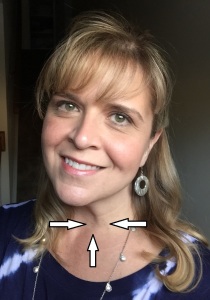 It's chicken neck. Leathery, wrinkly, 43-year old chicken neck. I had a momentary pause, mouth agape, at what was staring back at me from my phone. Where did that come from?
Then I realized how I ended up with skin that makes roosters swoon. That patch of neck is from too many days of soaking up delicious, warm, wonderful sunshine.
It's from sitting at my daughter's softball games, taking my son to the pool, drinking warm Natural Light on spring break. That chicken neck is a badge of honor for so many great times, I can't even count. It's a reminder that there are good, smooth, carefree times even when it appears everything is wrinkled.
It's also a clear sign I need to up the SPF.