No, not that kind of coming out! If there is anything to be gleaned from watching Josh Duhamel movies, it is that I am completely heterosexual. Okay, that's probably the only thing to be gleaned from watching Josh Duhamel movies. I digress.
Almost a year ago, I had some routine blood-work done that showed my "bad" cholesterol was in the 260's. For all of you 20-something readers, that's high. Also, it's been nice having you read my blog.
Truth be told, I was eating horribly; lots of fried, high-fat food and hardly any fruits or vegetables. I thought I could bring the numbers down by changing my diet. When my doctor asked, "What are we going to do about this cholesterol?"
I said, "I'm going to lose some weight!"
I don't know if you know this, but you can't just say, "I'm going to lose some weight" and have the weight come off. I'm sorry to break that to you. As a matter of fact, if you take a full-time job that has you sitting at your desk for long hours and working a lot of overtime, you will actually gain weight. Yep. It's true.
Starting last September I really did try to change my diet, and in January I started working out about six times per week. I was making real changes, because the cancer in my family lit a fire under my patootie. I'm 40 now. I use words like "cholesterol" in blog posts. It was time.
When I went back to my doctor for a blood test in early February, I was sure these changes would be reflected in my numbers. Were they ever! My cholesterol went UP to nearly 290. It was awesome to hear that; almost as awesome as jumping off a two-story building and landing on your kneecaps.
My doctor said, "You're building plaque as we sit here" and gave me two options; either take a statin drug every day, for the rest of my life, or drastically (and without moderation) alter my diet. When I asked him what that meant he said, "You'd have to go vegan."
As in, no more butter. Ever.
It took me exactly two seconds to agree to try it. I have long said that I could easily be a vegetarian and when I pictured what was happening inside my body, the change was easy. Have I craved a nice, cheesy pizza? Yes. Is the cheesy pizza worth heart disease? No. I also know it isn't good to drink alcohol while taking statins and if you ask me whether I'd rather give up animal products or beer, well…it's not really a question at all.
I'm 11 weeks in to this lifestyle change and if my numbers are low enough after my next blood test, I can go off the prescription. Also, if that happens you'll see me walking around with my arms in the air, like Rocky, for about a week. I'll be the one yelling, "I WIN!"
Of course, not everyone has to take such drastic measures; I'm just lucky like that. I made my family cheeseburgers last night. Tonight, they're having pork roast; tomorrow, barbecued chicken. You get the idea.
I, however, eat a lot of this: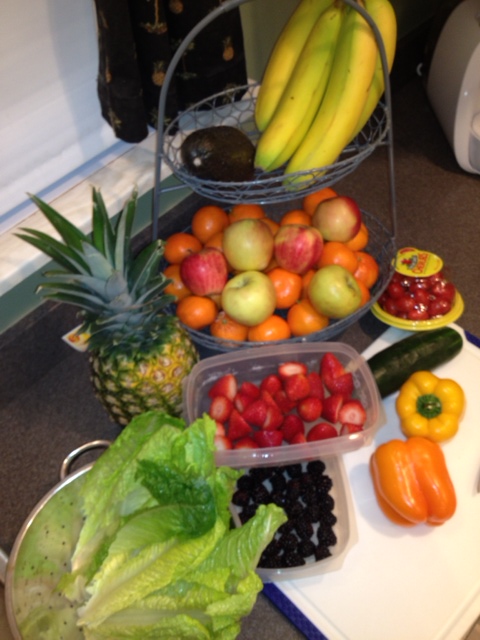 So there, I've come out with it. Unless I'm miraculously approved to once again become a carnivore, you can refer to me as a vegan. Or, Rocky. Either one.