A couple of months ago, my 12 year old daughter began practices for her 7th year of organized softball.  I have seen this kid swing a lot of bats.
We have also watched her and her brother from the sidelines for track meets, golf matches, soccer, baseball and basketball games, but softball holds a special place in my heart.  Maybe that's because it was the first sport she ever played.
Maybe it's because I've watched her grow from a tiny 5 year old, playing in the dirt of the infield to standing on the mound sending fast-pitches across the plate.  Of course, for every strike-out she's pitched, there has been a walk.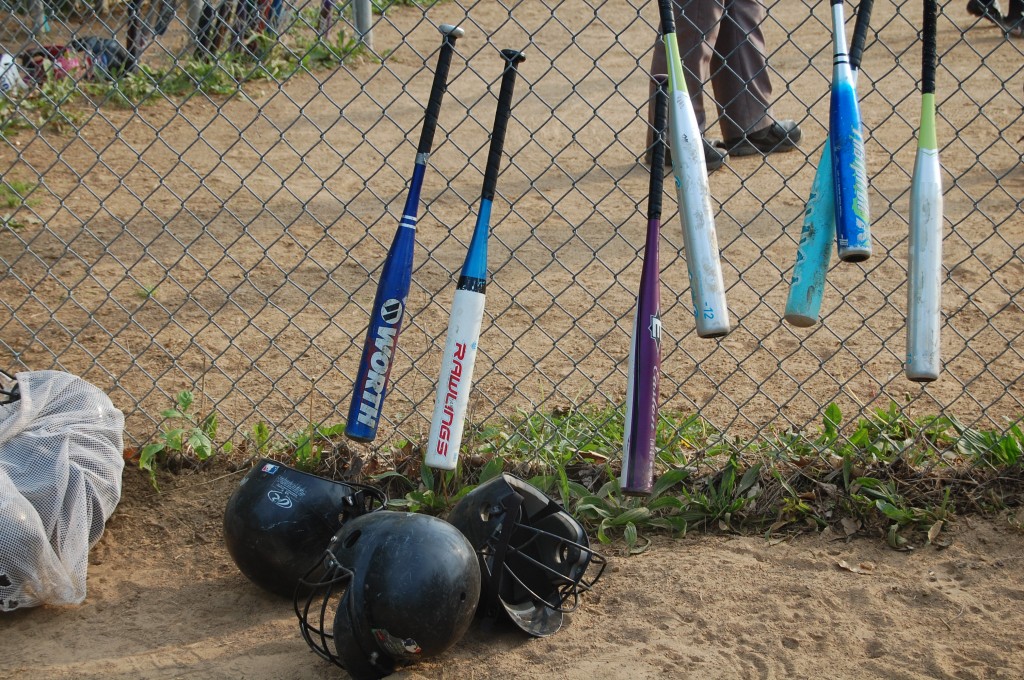 Maybe it's the smell of the fresh cut grass on the fields where her summer league plays, or the feel of the warm, June sun on my face.  Though, I can't forget the times we've huddled under the shelter houses as torrential rains fell from the sky or the blazing heat of July tournaments either.
Come to think of it, for every cold drink that has refreshed me while watching her on the field, there has been a heavy cooler to lug from the parking lot.  For every lawn chair I have sat in, there is a broken one that was shoved into one of the steel trash cans behind the dugout.
Softball spans two seasons.  Ohio seasons.  March to July in Ohio is like Alaska to the Death Valley.  We go from coats and blankets to flip flops and snow cones (and, recently, back to coats again).
In every way, watching my daughter play softball is a case study in opposites.
One way or another, it all equals out.  For every grounder that gets past the infield, there is a pop-up caught by an outfielder.  For every girl forced out, there is a base stolen.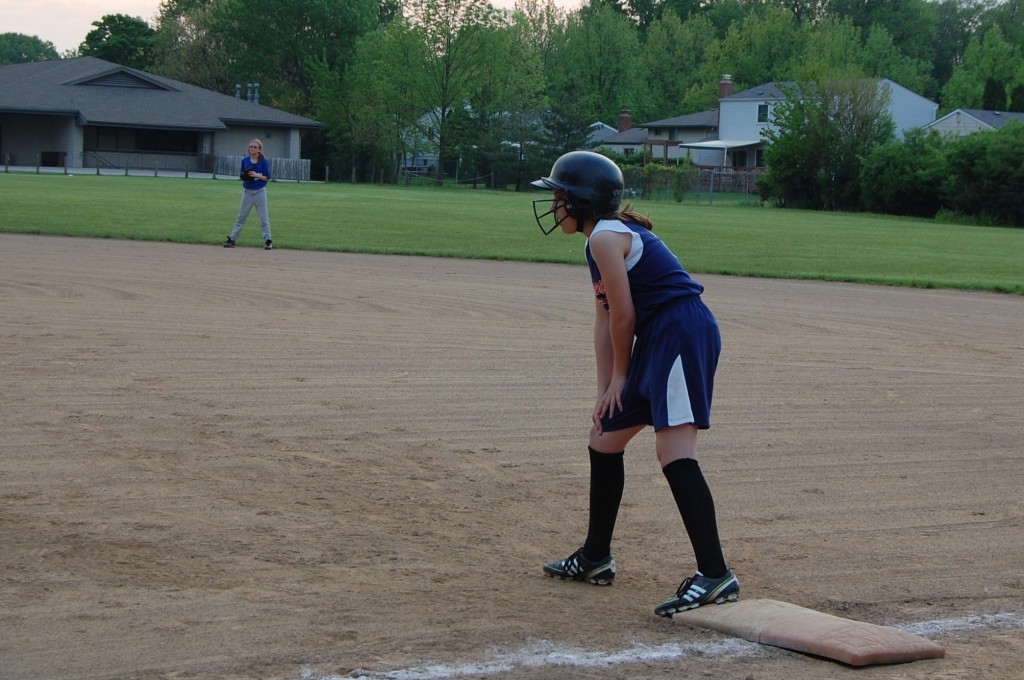 Being a Sports Mom means making sure there is equal proportion in everything she does, on and off the field.  Whether it's getting homework done so she can get to practice on time or the fine line between cheering for teammates and good sportsmanship, there has to be balance.
In no area is this more apparent than in nutrition and hydration for my young athlete.  If my daughter hasn't had the right amount of protein or if she didn't properly fuel and hydrate before game play, I see it in her performance.  Likewise, too much to eat or not drinking the right fluids can have the same effect.
I insist that she eat a light snack with complex carbs and protein (1/2 a natural peanut butter sandwich on whole wheat bread) and that she hydrate about an hour before a game.  During play, she can chew gum and drink water or Gatorade (the amount depends on her level of fluid loss).  Sometimes there is a bag of peanuts laying on the bench and that's okay too.  But, finding the balance is vital.
This is just one reason I'm thankful for Gatorade Moms.  It is a perfect site for us parents who are looking for nutrition information for optimal conditioning and health, inspiration from other moms who know what it's like to share the sideline and advice from experts.  It's like a Mom's dugout!
Through Gatorade, I was even able to speak with Stephanie Hamm, the mother of Mia Hamm who is widely recognized as the best women's soccer player in the world. Before Mia became the youngest women to ever play for the U.S. National Team at the age of 15, she was a kid trying out different sports, being shuttled back and forth to practices and whose mother was trying to find balance just like me.
I love having the opportunity to work with companies whose products I really believe in and Gatorade is one of them.  There is no high fructose corn syrup, it replaces electrolytes, it hydrates and it tastes good.  I drink it every time I work out too.
BlogHer believes in Gatorade and the Gatorade Moms site so much that they wanted me to not only have you check out the valuable content, but also give one lucky reader a $100.00 gift card to Dick's Sporting Goods!
Here are the rules:
No duplicate comments.
You may receive (2) total entries by selecting from the following entry methods:
a) Leave a comment telling me what is the biggest challenge you face in trying to balance your kids' sports or your own exercise routine. Is it hard to find time for healthy meals?  Have you had to deal with injuries?  Is it hard for you to cheer for your child without being too critical?  Do you have kids who have to be in two places (or more) at the same time?
b) Tweet about this promotion and leave the URL to that tweet in a comment on this post
c) Blog about this promotion and leave the URL to that post in a comment on this post
d) For those with no Twitter or blog, read the official rules to learn about an alternate form of entry
This giveaway is open to US Residents age 18 or older and runs from 6/1/2011 to 6/30/2011. For additional chances to win, visit the BlogHer Prizes & Promotions section.
Winners will be selected via random draw, and will be notified by e-mail.
You have 72 hours to get back to me, otherwise a new winner will be selected.
And for all of you Sports Moms, good luck finding the balance!